- Nov 7, 2011 -
Headquarters raises the steaks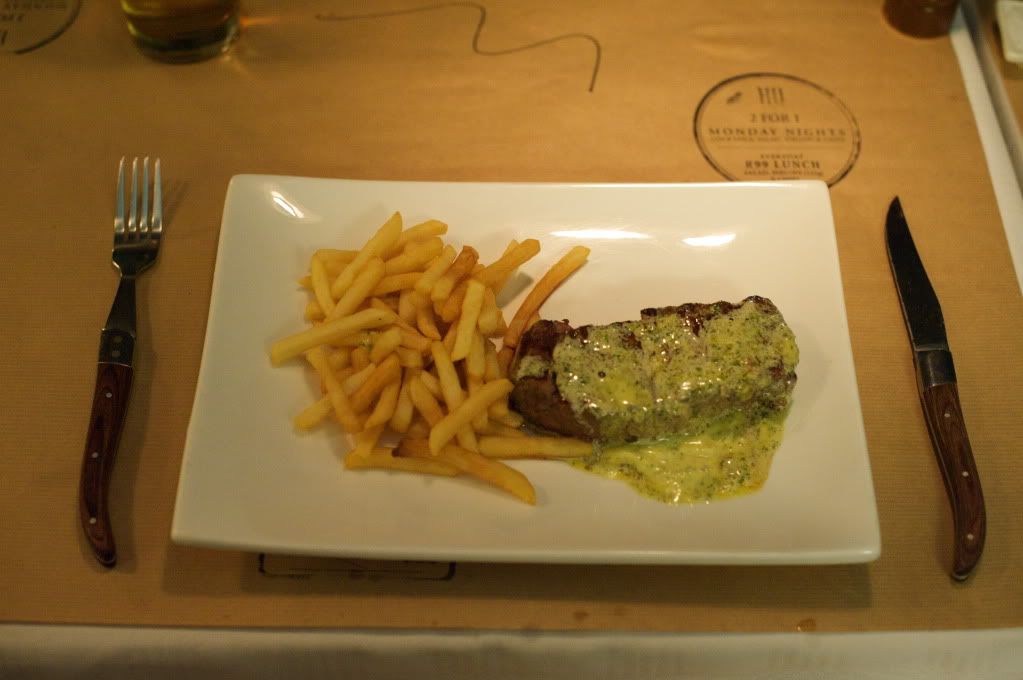 The menu: salad, sirloin and chips. The only thing your waiter will ask you: 'How do you like your steak?'
Welcome to HQ, where you can have anything you like, as long as it's salad, sirloin and chips.
I like HQ. I like restaurants that focus on what they stand for and what they're good at. HQ simply stands for steak. For really good steak.
HQ (Headquarters) is located in central Cape Town on Heritage Square. It has a large, yet narrow dining area, an upstairs, as well as a bar and lounge. And, in all, you'll enjoy a warm brasserie-like atmosphere. We start at the bar with a Jack Black beer for my partner and a grapefruit Cosmopolitan for me. These are helped quickly along with a few snacks, and a chat with the mixologist. You find all the classics as well as new creations on the cocktail menu (most are also available in a non-alcoholic version).
The menu states: 'Our experienced mixologists can prepare almost anything you might not find on the menu.' So, we take them up on that and William makes us a martini with rooibos. At the bar you can order snacks like olives, nuts and biltong. There's a good range of cigars too. In the cosy lounge area I see friends enjoying an evening out, and the fireplace is welcome on this chilly night.
Goldfish is playing in the background, and the feeling is happy and comfortable. After a good start at the bar our friendly waiter seats us in the diner-like area with the balloon lighting. We enjoy the vibe, watching people and spot many old as well as young fathers with their sons. This is indeed a perfect father-and-son-spot.
At HQ you know what you're coming for
Headquarters is a concept restaurant based on a restaurant in Paris, Le Relais de L'Entrecote. On our brown paper tablecloth our waiter writes down in bold letters how we like our steaks done.
We can't wait to get started with the organic 250g, top cut of sirloin (Halal-friendly) served with delicious café de Paris butter, which consists of eight different herbs, spices, onion and garlic. You have a choice, have your salad before or with your sirloin. And this salad won't disappoint – a yummy mustard dressing covers different kinds of lettuce leaves, shaved Parmesan and pine nuts.
Don't worry, here, you won't go home hungry. Your skinny fries, herb butter and salad will be topped up, if you wish so.
Yes, there is a dessert menu, which offers ice cream, sorbet, chocolate fondant, crème brûlée, apple tart, tiramisu and more.
Other restaurants offer over-extended menus, whereas Headquarters focusses on one dish to ensure excellence in every meal. Owners, Brendon Crew, Jean Muller and Marc Langlois had a great idea. Focus on what you're good at and you will succeed.
By Antonia Heil   – written for www.capetownmagazine.com

P.S. HQ offers a number of spaces that can be rented out for private functions.
P.P.S. Have a look at HQ's specials: 2 for 1 on a Monday night; everyday R99 lunch (125g)