- Apr 30, 2011 -
Another exciting and passionate story I wrote for capetownmagazine.com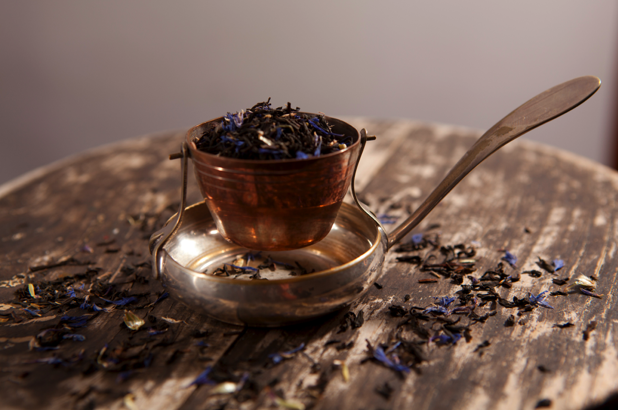 Jessica Bonin was the first in Cape Town to offer take-away quality teas

Ever wondered who's behind that bohemian tea caravan 'Lady Bonin's tea parlour'? Yes, it's another tea story, but tea stories are healthy and good for you, so here we go… I met tea lady Jessica Bonin for the first time at the end of December 2010 at the 'You and Me & Everyone We Know Market' in front of the Labia theatre on Cape Town's Orange Street. 'Finally' I thought, finally someone who's bringing some tea culture to Cape Town (next to all the lekker coffee shops) – and then I had a good cup of ice tea on a hot summer's day.
Lady Bonin's mission: to revolutionise and modernise the tea drinking culture while at the same time providing an alternative to take-away coffee. Selling her goods from a bohemian caravan, Jessica introduced a mobile tea room to Cape Town and travels from market to market, and from festival to party.
The tea lady, Jessica Bonin, is originally from Joburg, studied drama and theatre in Grahamstown and came to Cape Town to work in film production. "Irregular times, and working in summer to stay financially liquid during winter was killing my soul," she says. So 1,5 years ago, Jessica re-looked her situation and went on a business course.
What's missing in Cape Town?
That was the question she asked herself. Jessica wanted to open a tea-café, but then had to look at what she could really afford – a caravan. Things quickly came together: having the idea in June 2010, things started moving in July and the caravan was found in November 2010 in Johannesburg. The tea parlour slash caravan is well in shape, dating from 1975, it's painted beautifully with wallpaper inside and an outside display – it's eye-candy, that's for sure – there's an easy-going vibe about the little dude…
"The caravan is just like my home is: bohemian chic with Eastern influences without limiting it," says Jessica. The colours, the décor, the plants, the carpet with cushions in front of the caravan.. it will surely teach you that tea is a relaxing pastime. Take time and enjoy your cup in the caravan with Lady Bonin or in front of the caravan on the cushions.
"Since tea is often looked at as an elitist thing, the caravan makes it accessible," says happy caravan-owner Jessica. Even though you will find Lady Bonin's tea at more and more health-conscious cafés and stores, you will also find her at many markets.
The focus: quickly brewed take-away high quality loose-leaf teas in biodegradable packaging
Tea has always been a big part of Jessica's life; time to spread the word. Even though the aim is still to have a tea-café, the caravan is a good way to check out the market. Jessica serves freshly brewed tea at her Lady Bonin's tea parlour as take-aways (in biodegradable cups) or sit-down. The beautiful cups sourced from Milnerton market give the whole experience a nostalgic feel, but tea is in. That vintage and cool go hand-in-hand, we know already. And the name? "I always loved my surname and we are the only Bonin's in South Africa."
Lady Bonin offers 23 unblended loose-leaf teas in 50g glass jars 50g (20 cups worth) but also custom blends. Where did she learn her trade? "I'm self-taught, tea is a feeling for me, you put your love in it just like you would with a good meal." I wonder what I would call a 'tea-barista' and Jessica tells me that 'tea-master' would be the proper term. Jessica sources her teas and tea equipment from all over the world. Her favourite tea and a best-seller is the Formosa Oolong Blossom (nutty citrus-y, smooth like drinking silk) and the Earl Grey Blue Flowers also has a good number of followers.
Tea lady Jessica receives amazing feedback; family and friends believe in her and push her to the next level. "I enjoy being passionate about something. It's like being responsible for a vegetable garden. I love the fact that I am everywhere, people are open. And it's good to know that I am ahead of the market..!"
In future, Lady Bonin will also offer tea associated products such as, tea-flavoured cupcakes, tea-bath-sacks, tea-ice-cream… Check out the traveling tea-caravan. It's like a fairytale, of passionate people, where everything is healthy and good!
by Antonia Heil
Lady Bonin (Jessica Bonin) | Observatory | Cape Town | +27 (0) 83 628 2504 |
 ladybonin@gmail.com | www.ladybonin.co.za
PS: Visit Lady Bonin at the Boulders Market, every last Friday of the month at the You and Me & Everyone We Know Market at the Labia theatre on Orange Street, plus, check at the Wellness Warehouse for Lady Bonin's teas – find a list of all the other markets on Lady Bonin's website.
pix by Padraic O'Meara